TUTORIAL教程
Welcome, this is Terry Ewell. Weissenborn gave the key of C# major for this study in his original collection of 60 studies. Perhaps the key signature was changed because there is no other study in Db major in the present collection of 50.
大家好,我是唐英伟,欢迎来到今天的巴松课堂。在维斯伯恩最初的60首练习曲集里,他为这首练习曲选择了升C大调这个调性。也许是由于现存的这套50首练习曲集中没有降D大调的练习曲,所以这首练习曲的升降号也就因此改变了。

There are three aspects of study #40 I want you to notice. We have dealt with all of these aspects in prior studies, so this will reinforce what you have already learned.
在这第40首练习曲中,有三个方面我希望你能注意。在之前的练习曲中,我们已经处理过这三个方面的问题了,所以今天的课程对你所学过的东西是一个巩固练习。

The transitions from divisions of three to four in the first line are made all the more difficult with the eighth note on the down beat. I suggest you practice this with a metronome in these ways. First tongue on a monotone the divisions of threes and fours.
第一行中细分为3拍到4拍的过渡由于重拍上的八分音符变得难度更大了。我建议你用节拍器以这几种方法进行练习。首先用吐音的方法吹奏分为3拍和4拍的单音。
Then tongue the rhythm as printed on a single tone. Now practice the passage as printed.
然后按乐谱上的节奏以吐音吹奏单音。而后可以按照乐谱所写练习这个乐段了。

Slurred notes often sound louder than tongued notes. If anything, you need to give more air to the tongued notes.
由连线连起来的音通畅比吐音演奏听起来响亮。如果可以的话,你需要在演奏吐音时运用更多的气息。
Don't play like this:
不要演奏成这样:
(Example with accented slurred notes—2 measures
Instead keep the dynamic even.)
Instead keep the dynamic even.
反之,我们要保持强弱关系平衡。
(Example no accents –2 measures)
In line 6, measure 2 the notes are difficult to perform. Put to use rhythms and sprints here. If you need to review these principles please look at the earlier videos in this series.
第六行第二小节的音符比较难演奏。在这里要把握好节奏,尤其是音符快又多的段落。如果你需要复习这部分的内容,请参考本系列中较早的教学视频。

The breath indicated in the study by Weissenborn is  rare! He gives only two breath marks in all of the studies and this is the first one. It indicates not only a place to breathe but also the start of new musical material.
维斯伯恩在练习曲中亲自标注呼吸记号是很罕见的。在这套练习曲中,他只给出了两处呼吸标记,而这里就是第一处。这个呼吸标记不仅仅是一个呼吸换气之处,它同时也是新的音乐素材开始的地方。
REFLECTION 沉思
…there are a whole set of inner problems that we also face and which directly affect our outer performance…As we turn to examine the inner world, with its teeming doubts and hopes and expectations, we need to know just what is going on inside us.
有一些我们不得不面对的内在问题同样直接影响我们外在的表演。当我们回过头来审视我们的内心世界时,其中充满疑虑、希望和期待,我们需要知道里面进行着哪些活动。
Barry Green, The Inner Game of Music (New York: Doubleday, 1986), pp. 11-12.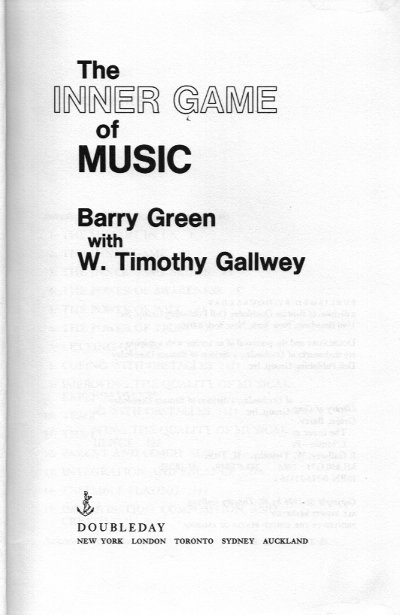 As a musician you are probably figuring out that music is more than just physical sound, it is something internal. Music moves our emotions and stirs our inner life. It is out of this inner life that musicians bring forth their music.
作为一个音乐家,你可能已经明白音乐不仅仅是物理声音,而是一些内在的东西。音乐触动我们的情感,也搅动我们的内心生活。正是出于这种内心的生活,音乐家们才能表达出他们的音乐。
Barry Green with co-author W. Timothy Gallwey both recognize that there is an important connection between the "inner game" and the "outer game." Timothy Gallwey in his well-known book The Inner Game of Tennis presents this relationship with practical approaches to tennis playing skills.
巴里.格林与共同作者W.蒂姆.高威都承认"内心游戏"和"外在游戏"间存在着重要的联系。蒂姆.高威在他有名的著作《网球的内在游戏》中用实用的网球技巧阐述了这一关系。

Turmoil in your inner life will bring forth turmoil in your outer life. Peace in your inner life will bring forth peace in your outer life. Your inner life determines the course for many aspects of your existence.
你内心的焦虑会使你的外在生活变得同样混乱。内心的平静同样会使得你的外在生活平静。你的内心生活决定了你所表现在外的很多方面。