Weissenborn Opus 8/2, Study #18 for advanced bassoon students. Downward slurs. Practicing with rhythms that break pairings, beat (metric) displacement. By Terry B. Ewell, Bassoon Digital Professor. BDP#126. www.2reed.net.
Weissenborn Opus 8/2, Estudio Avanzado #18. Ligaduras descendentes. Practicando con ritmos que rompen parejas, desplazamiento de pulso. Por Terry B. Ewell, Profesor Digital de Fagot. Traducido por Germán Martínez López. BDP #126. www.2reed.net
TUTORIAL
1. Welcome, this is Terry Ewell. Study #18 focusses on mastery of two things that are difficult to do on the bassoon: downward slurs and balancing registers. On the bassoon it is easier to emphasize the lower note when slurring a large interval. However, the downward slurs should be performed without an accent on the lower note. In fact Weissenborn even indicates that the upper note should be accented leaving the lower note with a graceful resolution. In this study the accents are made with increased air during the upper notes. Then you need to diminuendo to the lower notes.
1. Bienvenidos, soy Terry Ewell. El estudio #18 se centra en dominar dos cosas que son difíciles de hacer en el fagot: ligaduras descendentes y equilibrio entre registros. En el fagot, es más fácil conseguir la nota grave con un intervalo ligado amplio. Sin embargo, el intervalo debe ser tocado sin acentuar la nota grave. De hecho, Weissenborn indica que la nota de arriba debe ser acentuada para dejar a la nota grave como una resolución con gracia. En este estudio, los acentos se hacen incrementando el aire durante las notas más agudas. Después tenéis que disminuir a las notas graves.


2. The alternate F# fingerings in line 7 are to help motion to Bb3. I mentioned the use of the little finger F# key in the last study and I hope that you headed my instructions!
2. La posición alternativa de Fa# os ayudará a moveros al Sib en la línea 7. Mencioné el uso de esta llave del meñique en mi anterior estudio. ¡Espero que hayáis seguido mis instrucciones!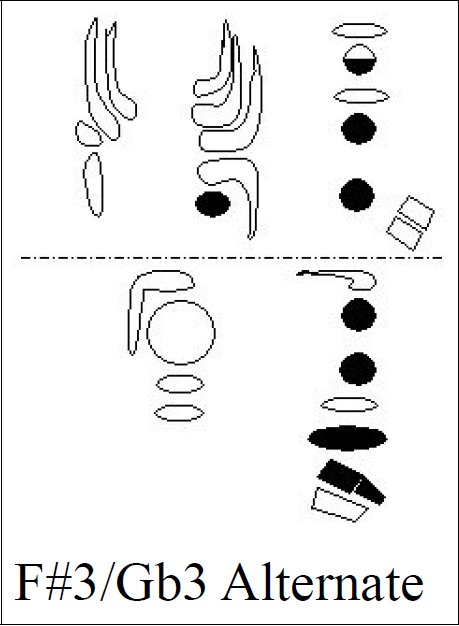 3. The second to last line in the study will need special attention. These large leaps include confusing finger patterns. I suggest you adopt these two methods of practice here and where needed elsewhere in the study.

1) Rhythms that break pairings.
3. La segunda hasta la última línea merecen especial atención. Estos amplios saltos pueden confudir los dedos. Os sugiero que adoptéis eestos dos métodos para practicar aquí y donde necesitéis en este estudio.
1) Ritmos que rompen parejas.