Link to other difficult passages
Tchaikovsky, Peter. Symphony No. 4
Ewell, Terry B. (20 August 1994). Fourth movement, mm. 26-32 after rehearsal letter B. A4 to Bb4 throughout use Cooper p. 278 for A4 and open L. H. C hole for Bb4. All A4s in the passage may be played with Cooper p. 278.

A4:                Bb4:

    Eb                 Eb
x x x | o o o      x x o | o o o
 a c#               a c#
| | |
| --- | --- |
| A4: | Bb4: |
---
McAuliffe, Joseph. Second mov. last note. In Apfelstadt, Marc and Klimko, Ronald. Bassoon Performance Practice, Teaching Materials, Techniques and Methods. Idaho: University of Idaho, 1993, p. 63. For pianissimo.
F3:


  o o o | o o o F
     w(lock?)
Bb B C D
---
Tchaikovsky, Peter. Symphony No. 4, second movement, last note, F3. Millard, C. BPP1, p. 67. Slowly close R. H. E key for diminuendo.

 	F3
 o o o | o o o
  w      E--close slowly
  D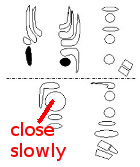 ---
---
Artwork and Graphics by Terry B. Ewell

Copyright 2015-18 by Terry B. Ewell.